Globe Life Texas Rangers Baseball And Softball Grant Program
Globe Life, the Texas Rangers Baseball Foundation, and FOX Sports Southwest provide grants to youth baseball and softball organizations to promote and support the sport throughout Texas Rangers territory.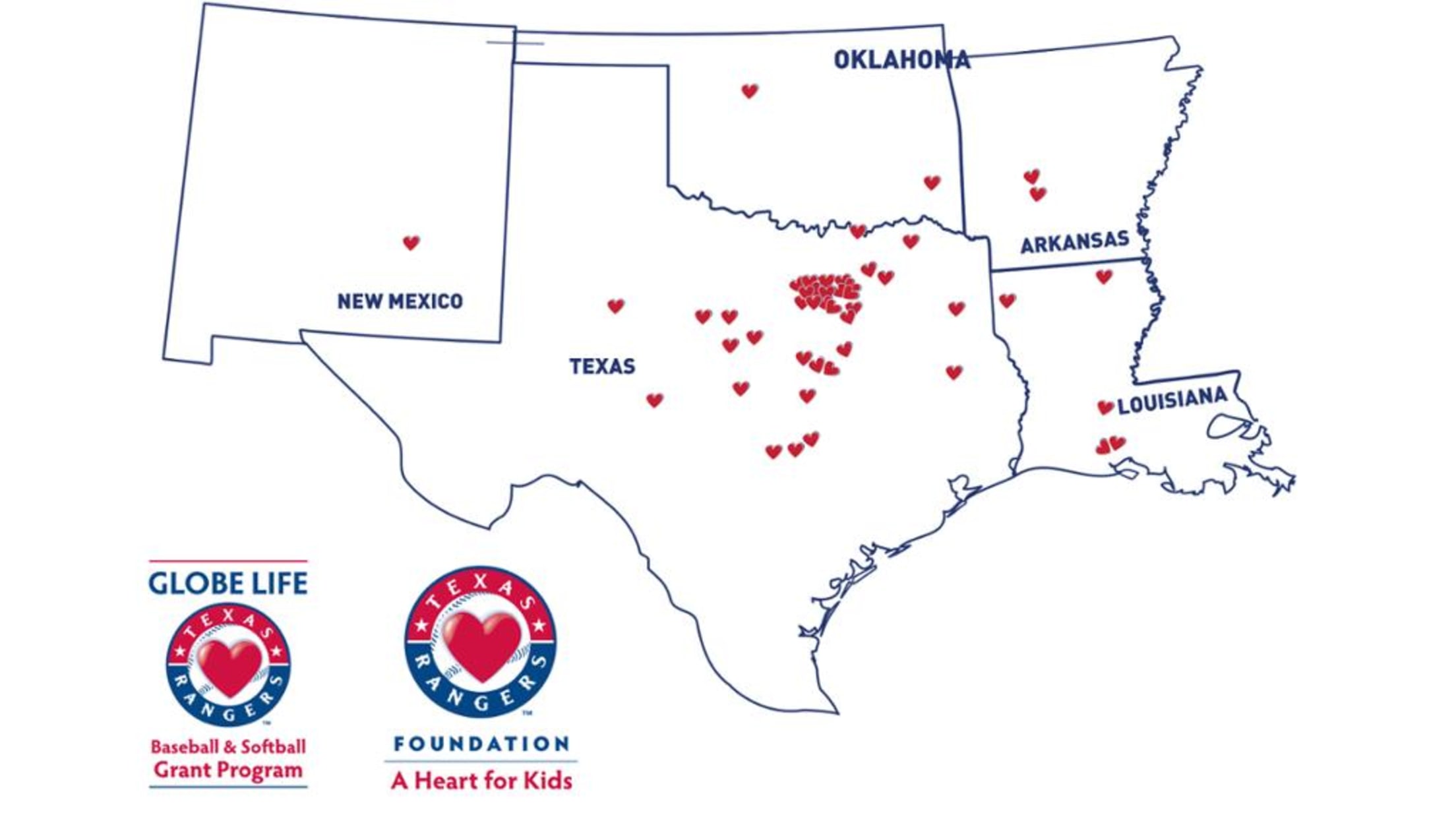 Texas Rangers MLB Academy at Mercy Street Sports Complex, presented by Toyota
In partnership with Major League Baseball and Major League Baseball Players Association, the Texas Rangers Baseball Foundation provides baseball and softball instruction to children ages 6-18 year round at the Rangers Youth Academy in West Dallas. The Globe Life Training Center houses the Adrian Beltre Field along with classrooms and meeting areas. The complex includes Oates Field, presented by Papa John's, Kershaw's Challenge Field, Josh "Hambone" Hamilton Field, Mimi's Field and Field of Dreams. This state-of-the-art facility gives children across North Texas the opportunity to make advancements on the field, and in the classroom.
RBI
The Texas Rangers Baseball Foundation enters their eighth season of running Reviving Baseball in Inner Cities (RBI) and Jr. RBI in North Texas. Last season , over 3,000 youth across Arlington, Austin, Dallas-Fort Worth, Lancaster, and Shreveport were given the opportunity to learn and enjoy the games of baseball and softball with support from the RBI program, which is part of the Major League baseball initiative to increase baseball participation in lower-income areas.
In partnership with local municipalities, school districts, and nonprofit organizations, the Rangers Foundation supports RBI throughout North Texas providing participants with uniforms, equipment and exclusive Rangers opportunities. In 2015, the Rangers hosted the Major League Baseball RBI World Series Championships where more than 24 RBI Baseball and Softball teams from around the nation and the Caribbean competed for the coveted title of RBI World Series Champions.
The Miracle League
Since 2005, the Texas Rangers Baseball Foundation, and more specifically the Texas Rangers Alumni Legacy program, has supported The Miracle League of Dallas-Fort Worth. The Miracle League program provides children with mental and physical challenges the opportunity to safely play baseball on specially-designed baseball fields.
In partnership with the Rangers, The Miracle League constructed the Doug Inman Miracle League Field at Randol Mill Park in Arlington. The Rangers are dedicated to continuing their support of The Miracle League through Rangers alumni attending Miracle League games, hosting Miracle League Night at Globe Life Park, and partnering with Baseball Fantasy Camps for Kids to host a Fantasy Day for all Miracle League participants.
Baseball Tomorrow Fund
The Baseball Tomorrow Fund is a joint initiative between MLB and the Major League Baseball Players Association. This fund awards grants to organizations involved in the operation of youth baseball and softball programs and facilities. The mission of the Baseball Tomorrow Fund is to promote and enhance the growth of youth participation in baseball and softball throughout the world.
In 2005, the Baseball Tomorrow Fund expanded its role by establishing Baseball Tomorrow Fund/MLB Equipment Day, a national initiative to encourage the collection and distribution of used equipment to organizations in need. The Baseball Tomorrow Fund Equipment Day provides baseball equipment to local baseball teams and benefits the various baseball programs in the Rangers territory. Baseball Tomorrow Fund Equipment Day, sponsored in part by the Texas Rangers Baseball Foundation, Academy Sports + Outdoors, and FOX Sports Southwest, will be held at Globe Life Park in Arlington during the 2016 season.
Buses for Baseball
The MLB Players Association and Dallas/-Fort Worth Action Team have partnered to provide local kids with a night at Globe Life Park. Local at-risk youth are provided food coupons and complimentary tickets to attend a Texas Rangers game. As part of the program, several Rangers players will greet the children and sign autographs.
Pitch, Hit & Run
Major League Baseball Pitch, Hit & Run is a free, exciting skills event providing boys and girls the opportunity to compete in four levels of competition including Team Championship events at all 30 Major League ballparks and the National Finals at the MLB All-Star Game. DFW Regional competition will begin in March 2016 and will culminate with a championship game on Sunday, June 4th, 2016 at Globe Life Park in Arlington.
Play Ball
In 2016, MLB developed Play Ball Weekend to encourage children to play baseball for enjoyment outside the normal routine of games and practices. 2017 Play Ball Weekend boasted a fun clinic at the Texas Rangers MLB Youth Academy at Mercy Street Complex, presented by Toyota where Rangers players AJ Griffin, Matt Bush, Nick Martinez, and Jared Hoying took to the newly completed all weather-fields to teach a thing or two to the local kids. At the Rangers Youth Ballpark in Arlington, children signed up for a fun baseball field day with an informal baseball clinic facilitated by Rangers youth ballpark coaches, with special guest appearances from your favorite Rangers alumni German Duran, Jim Norris, Ellis Valentine, and DeWayne Vaughn, the Rangers Six Shooters and the Mayor of Arlington.