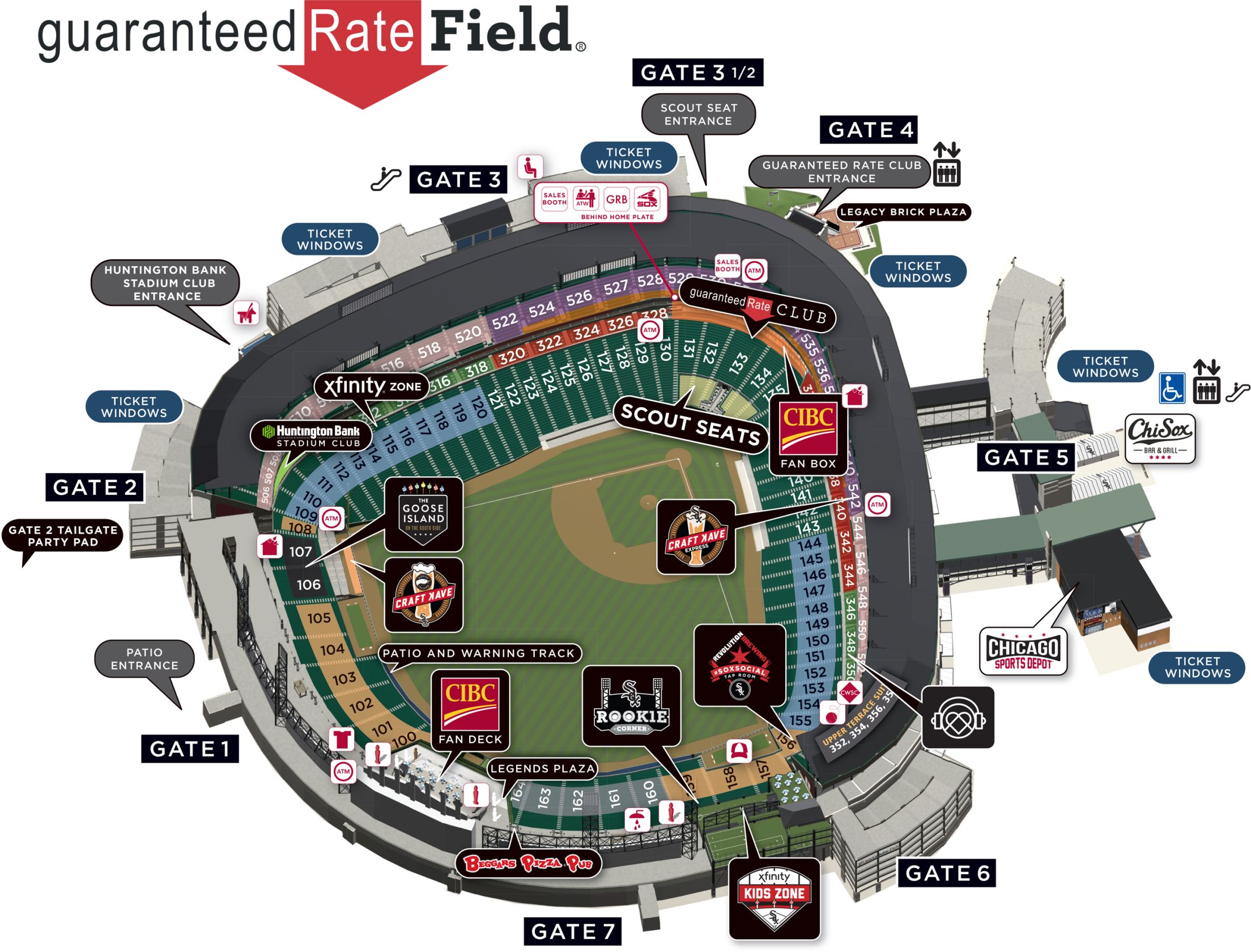 What to do?
Chicago Sports Depot
Visit the Chicago Sports Depot, located at Gate 5, for all your favorite White Sox gear. Test your luck and see if you can hit one out of Guaranteed Rate Field...at least in virtual reality! While you're there, check out the best selection of White Sox merchandise anywhere. And be sure to follow @whitesoxstore on Instagram for exclusive offers and promotions. Chicago Sports Depot can be accessed during games via the bridge near Section 145.
ChiSox Bar & Grill
Located at Gate 5, this upscale restaurant and bar features two stories of indoor seating and an outdoor patio for pre- and post-game gatherings. The restaurant will be open to the public on game days.
The CIBC Fan Deck
Enjoy a unique, panoramic view of the playing field on the two-tiered Fan Deck atop the center field concession stands. Available for private group outings.
Goose Island Craft Kave
Located on field level near Gate 2. Features over 75 craft beers paired with craft burgers, offering a full bar menu and lively atmosphere for all fans.
Craft Kave Express
Located at Section 542, fans on the 500-level can stop by and check out this great selection of craft beers.
The Goose Island
Located at Sections 106-107, The Goose Island is a new space, featuring a variety of seating options. Rows will include field-level views, group party areas and individual seating as well as a fun, social space in a few standing-room rows near the outfield concourse.
Revolution Brewing #SoxSocial Tap Room
Charge your phone while you check out the latest in White Sox social media. The Tap Room is open to all guests with a game ticket until the last out of each game. The Tap Room is accessible by the stairs located outside Section 157.
Beggars Pizza Pub
Fans can enjoy delicious Beggars Pizza straight out of the oven along with full bar options and a new seating area. Located near Section 163.
Xfinity Kids Zone
Located in left field, kids age 13 and under will love the baseball clinics, batting cages, base running and practice pitching areas. Access this FREE multi-level area from the Lower, Club Level and Upper Levels. Kids must wear athletic shoes. Sandals & Crocs are not permitted. Please see a guest service representative for more details.
Xfinity Zone
Located outside Section 109. Fans can order food and beverages, watch sports on the big screen.
47 Shop
Souvenirs, hats and apparel from years past to today. Near Section 101.
Budweiser Designated Driver Booth
Register to be a designated driver. On the Main Level behind home plate.
Conference & Learning Center at Guaranteed Rate Field
To book your next meeting in this state-of-the-art facility located right inside the ballpark, please contact Courtney Cawley Gray at (312) 674-5150 or via e-mail at ccawley@levyrestaurants.com.
Advance Ticket Window
Upgrade your tickets, or purchase Comiskey Cash, future tickets and parking passes on the Main and Upper Levels behind home plate.
Home Plate Shop
The Home Plate Shop, offering a wide variety of White Sox merchandise, is open on game days only. Located behind home plate on the 100 Level.
New Era Cap Corner
Baseball caps of all colors, styles and sizes in a wide variety of team logos. Located on the lower level near Section 157.
Plumbers 911.com Shower
A carry-over from old Comiskey Park and a fan favorite. Near Section 160.
Speed Pitch
Test your pitching speed and accuracy. Near Section 155 and 522.
BMO Harris Bank ATMs
Located at Sections 130, 531, 540, center field, outside the Goose Island Craft Kave, Gate 4, and ChiSox Bar & Grill.
Pet Check
Guests may check their pets during the game for minimal fee, which goes to support non-profit organizations that train service animals. For reservations and details, call 312-674-5503. Enter between Gates 2 and 3 near the Huntington Bank Stadium Club Entrance.
Sox Grab-N-Go
Grab a snack at the Grab-N-Go located near Section 142. Assorted beverages, healthy options, sweet & salty snacks and freshly prepared items ready to go!
Rain Rooms
Cool mist for hot summer days. Near Section 107 and 537.
White Sox Charities Corner
Charities Corner, the hub for all things White Sox Charities, is located on the Lower Level near Section 154. Bid on game-used memorabilia, sign up for the Volunteer Corps or find out more about White Sox Charities' mission to make Chicago a better place to live, work and play beyond the diamond.
White Sox Legends Sculpture Plaza
Minnie Minoso. Located at Section 164.
Carlton Fisk. Located at Section 164.
Billy Pierce. Located at Section 164.
Charles Comiskey. Located at Section 100.
Luis Aparicio. Located at Section 100.
Nellie Fox. Located at Section 100.
Harold Baines. Located at Section 105.
Frank Thomas. Located at Section 160.
Paul Konerko. Located at Section 160.
Guaranteed Rate Field Guest Relations Booths
The Guaranteed Rate Field Guest Relations Booths are located behind home plate on the Lower Level, Club and Upper Levels and outside Gates 4 and 5. Visit any of the booths for the following services:
Coat Check
Fan Assistance
Kids ID Bracelets
Lost & Found
Scoreboard Message Requests
Services for Fans with Disabilities
Access to Mother's Nursing Room
Rookie Corner
Located near Section 159. First time visitors can receive a certificate to commemorate the day. Or stop by to get a button on your birthday and pick up other fun items!
Where to eat?
Visit Concessions to find a complete listing of food and beverages at Guaranteed Rate Field.