A's Kids Club
presented by Delta Dental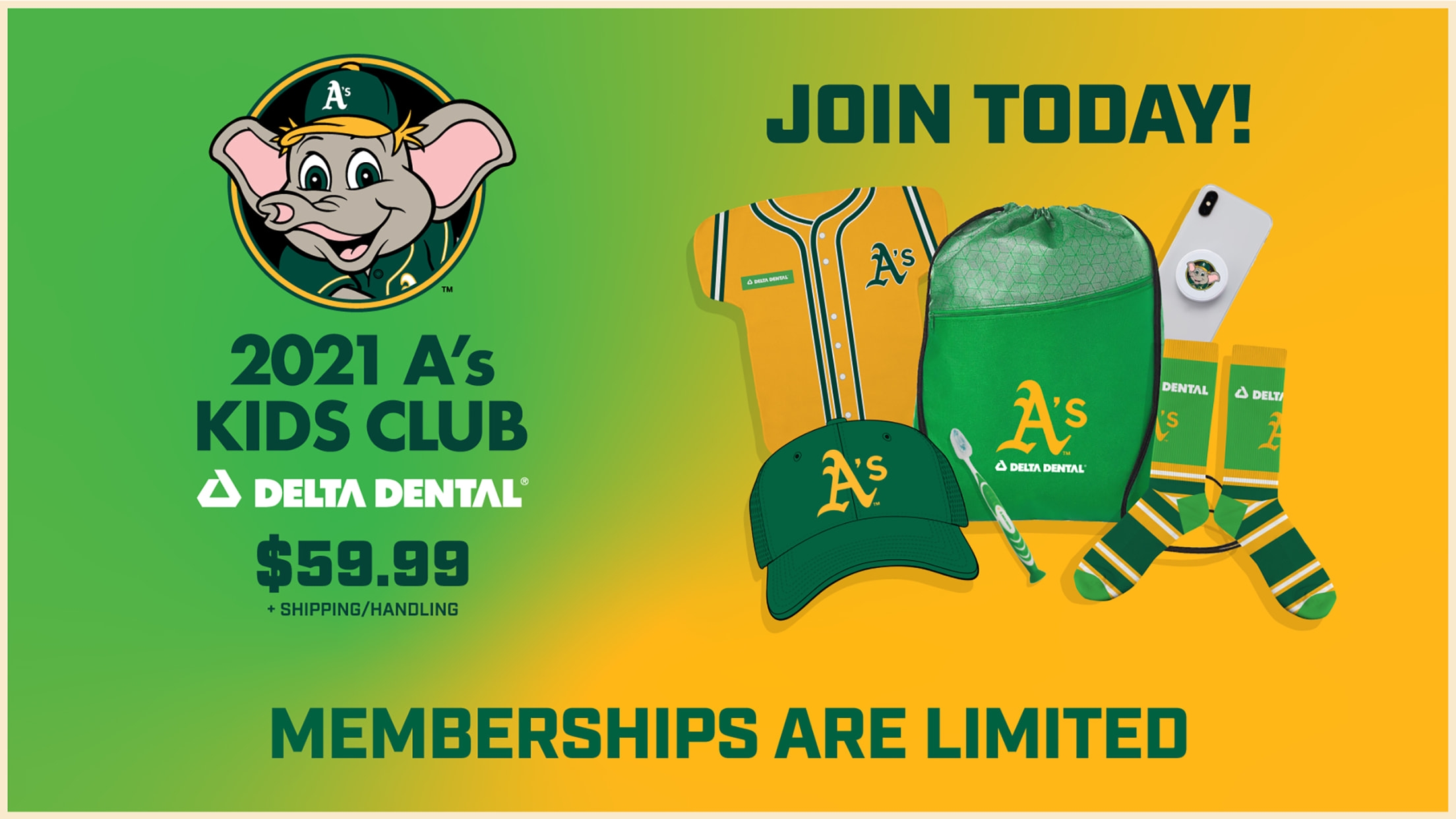 Your A's Kids Club Membership Kit Includes:
Kids Club Kit*
Drawstring Bag
Hat
Socks
Jersey Towel
Stomper pop-socket
Toothbrush
Two Virtual Experiences - stay tuned for more information!
Digital Membership Card
Other Exclusive Opportunities
* All items will be shipped directly to your home address in 4-5 weeks
A's Kids Club FAQs
What is the A's Kids Club?
Stomper is glad you are here! The A's Kids Club is an exclusive opportunity for young A's fans to cheer on their Green and Gold. Presented by Delta Dental, the 2021 A's Kids Club consists of an awesome kit filled with an A's branded drawstring bag, hat, socks, jersey towel, pop-socket and a toothbrush. Members will also have exclusive virtual opportunities throughout the season and the chance to create your very own digital membership card.
How do I sign up for the A's Kids Club?
Visit athletics.com/kidsclub
How do I receive my 2021 A's Kid Club Membership?
Kids club memberships will be mailed directly to your home. To check your shipping address please email us at kidsclub@athletics.com
Where is the A's Kid's Club Booth at the Coliseum?
The A's Kids Club will solely be an online opportunity for the 2021 season due to COVID-19 restrictions.
What is the price for the 2021 A's Kid's Club?
$59.99 + shipping and handling
Is there an age limit for the A's Kids Club?
All kids 14 and under are welcome to join!
How long will it take for my A's Kids Club kit to arrive?
Please allow 4-5 weeks for shipping and processing
How do I sign up for the exclusive A's Kids Club experiences mentioned in the programs list?
Members will receive communication via email about upcoming virtual experiences with Oakland A's players, coaches, staff and Stomper. Stay tuned for more information later this season!
Since there was a shortened season last year in 2020, do I have to sign up again?
Yes, 2020 A's Kids Club memberships have expired. You must purchase a 2021 membership to receive the kit, to create your own digital membership card and to be eligible for 2021 Kids Club exclusive experiences. If you have any questions about your 2020 kids club membership, please email us at kidsclub@athletics.com
Who can I contact if I have any questions?
We are here to help! Feel free to email us at kidsclub@athletics.com or call 510-563-2375 during normal business hours.